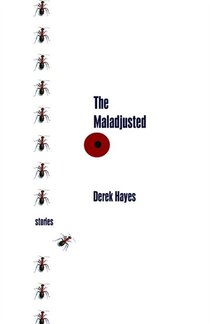 If you've been reading my reviews here at G & R, you'll know that I really enjoy short stories. For those of us who lead busy lives — which is most of us, lets be honest — short stories offer the opportunity to get in a great read with little time commitment. You can read a story and put the book down not to pick it up again until the next day, or the following week, and you still feel sated. For me though, that was not the case with Derek Hayes' collection of short stories, The Maladjusted.
I don't mean that as a negative, though. What I mean is that I had a really hard time putting the book down. There is an energy to Hayes' storytelling that makes it almost impossible to stop reading. The collection features characters that live on the fringe, outside of social norms. Whether it's due to mental illness, physical abnormality or just an overabundance of ego, Hayes has captured the idiosyncrasies perfectly. Each of the characters are crafted brilliantly and believably — a true accomplishment.
Heartbreaking and hopeful at the same time, Derek Hayes' The Maladjusted is a collection that I recommend to anyone who is looking for smart, realistic storytelling.
The Maladjusted
Written by: Derek Hayes
Published by: Thistledown Press
ISBN: 9781897235904
Buy it at Indigo.ca

Buy it at Amazon.ca

Check it out on Goodreads
Goes well with: A Strong, Black Coffee Martini (or just a cup of strong, black coffee)
2 ounces vokdka (espresso vodka would be best)
1 ounce strong black coffee (or espresso)
Pour the vodka and coffee over ice into a cocktail shaker and shake well. Pour into a martini glass and garnish with a couple of espresso beans. Those who need it a little sweeter can add half an ounce of Bailey's or Kahlua to the shaker before mixing.